NEW PRODUCTION COMING SOON! "IMAGINING LIAM"! May 29-June 10, 2017. Monday to Saturday nights at 7:30pm in The Teachers Club, 36 Parnell Square West, Dublin 1.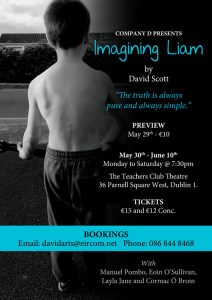 Robert has killed a child while driving under the influence. "Imagining Liam" follows Robert's imprisonment, his friendship with his cellmate, Steve and his journey through angst to the truth. "Imagining Liam" examines the nature of truth, imagination, conscience, mortality and justice and the prisons we make for ourselves.
Company D came together in 2006 when a group of acting students approached David Scott looking for advanced training in a facility that included a full production. Acting is doing and there is no training like doing it. And so a new theatre company was formed.
In 2011 Company D jettisoned the training element and became a fully independent, stand-alone theatre company producing excellent, highly innovative theatre. Some productions include, "in nineteen-sixteen", The Celtic Spider, The Ending, The Intruder by Maeterlink, Jesus Caesar, Oedipus by Seneca, Oleanna by David Mamet, Collected Stories by Donald Margulies, Once in a While the Odd Thing Happens by Paul Godfrey and Three Days of Rain by Richard Greenberg among many others. Company D also produced Skinners by Michael F Kennedy, the first play bravely dealing with clerical child abuse in Ireland. Skinners is now in development to become a feature film encompassing the wider life of the playwright.
Each of these stunning productions were acclaimed by audience and critics alike. Company D has developed a reputation for extraordinary production quality despite being rarely funded or financially assisted. The company is primarily interested in the development of new and excellent actors in Ireland, working within productions that are innovative, risky and original either in terms of them being new work or inventive interpretations of established texts. The company is fueled by the passion of its members and team for making great theatre and breaking new frontiers in theatre development.
Recently Company D embarked on its first feature film project, a unique interpretation of Shakespeare's Hamlet. (Currently in post production.)
Join us. Email David on david@davidscott.ie
Keep in touch with Company D Theatre on the group  page on Facebook and on Twitter @companyd.