The highly regarded Actors Friday Studio is a studio-style, part-time training facility for actors with substantial previous training or experience. Often populated by exceptional young talents, graduates of full-time and part-time training programs and courses from around the world, and frequented by veteran professionals aiming to reinvigorate their work, The Actors Friday Studio is a very popular and absorbing studio experience for all serious actors.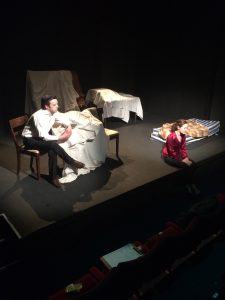 The Actors Friday Studio runs for 3 hours each Friday night for 10 weeks in Dublin. Most of the work is filmed and both stage and screen acting is covered.  Often described as an "actors gym" this is where the heavy-weights come to meet other exceptional and experienced actors to work on challenging scenes and monologues, apply their advanced technical training and trade their performances and their work.
Several new theatre companies and many productions have been born from the collaboration of actors in the Friday Studio over the years.  Many actors view the Actors Friday Studio as their ongoing practice ground and stay for many terms.
The Friday Studio takes 14 actors only. Often the Studio overflows and when it does, David hires a studio on Thursday nights also so that actors can avail of two nights per week of training for no extra charge.
Fee is 250 Euro for a 10 week term. Terms run as per the academic year.
Contact: Email: david@davidscott.ie. Ph. 087 759 6716. Find The Actors Friday Studio on Facebook.