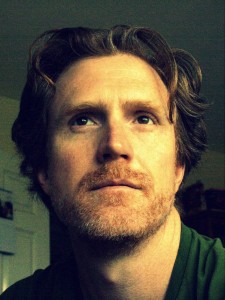 On this website you can find out all about David Scott, Actor, Acting Teacher, Director of Company D Theatre, Writer and Theoretician. 
Home of David Scott's renowned, personalized and diagnostic ACTING COURSES for Professionals, Aspiring Professionals and Passionate Amateurs. Information on David's innovative and cutting edge technical training of Fine Actors from all over the world. 
THE APPLIED ART OF ACTING 3 MONTH FULL-TIME ACTOR TRAINING PROGRAM.

The Actors Wednesday Workshop. Evenings on Wednesdays.
The Actors Friday Studio. Evenings on Fridays.
The Easter Week Intensive and The Summer Week Intensives. One – week immersive full-time courses.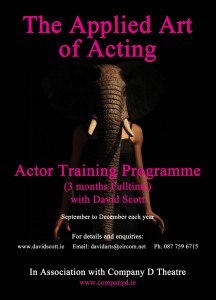 PLUS: Theatre Groups Training and Workshops Courses and Workshops for Theatre Groups both Professional and Amateur across Ireland. 
Corporate and Education Courses for Businesses and Schools. Catered courses, workshops and seminars for businesses, companies and primary and secondary schools. 
PRIVATE TUITION and audition preparation available also. Find all the details here and in the "Courses" section above.
Make contact.  Email: davidarts@eircom.net for bookings and enquiries. Ph. +353877596715.
Enquires always welcome.
FIND ALL THE COURSES ON FACEBOOK.
View video of graduates of The Applied Art of Acting talking about the 3 month full-time course on Youtube and Facebook below. Search The Applied Art of Acting.
David has been acting and teaching actors at the highest levels for 20 years, developing some of the most innovative, cutting edge and effective approaches to assist actors in creating excellent performances for stage and screen.
David is an Australian born actor who moved to Ireland in 2004. His interests within the world of theatre and film arts are many and varied. He studied at the University of Queensland and NIDA in Sydney. He has acted extensively in theatre, film and television in both Australia and Ireland and is represented by Nolan Muldoon Agency in Dublin. David has taught acting for some of the finest institutes of dramatic arts education in Ireland including The Gaiety School of Acting and The Irish Film Academy, Stageworks and The Drama League of Ireland. He also designs innovative courses of his own for both short-term and long-term training of fine actors including The Applied Art of Acting 3 month fulltime course, The Actors Wednesday Workshop and the Actor's Friday Studio as well as various specialist courses and private tuteleg.
David founded COMPANY D THEATRE in 2006 and the company has become one of the most highly regarded independent theatre groups in Ireland, producing innovative new work and new interpretations of established plays. The primary focus of Company D is the continuing development of new, excellent actors in Ireland. David has written many plays, films and stories. He has produced 11 original plays with COMPANY D since 2006 and published his first text book on acting and theatre arts in 2007. "THE BEAUTIFUL STAGE" is available on www.lulu.com. His second and third books, "THE ART OF ACTING" and "THE POSSIBLE SOMEONE", focused on advanced characterization are also available on www.lulu.com.
Dissappointed with the level of actor training available to him as a young actor in Australia, David began to develop a new acting technique designed to cleeve open the imagination and creativity of the actor using logical, practical concepts. The ongoing development of David's technique has the ultimate goal of marrying those sorely divided poles in acting theory, the Physical, the Psychological and the Emotional into one, all-encompassing form of theatrical and dramatic expression, contained in single, organic moments, and within the total moment of the entire performance in both theatre and screen performance.
All of David's classes are practical, useful and directly applicable to the everyday needs of today's actor. The process provides a three-fold power to the actor: the confidence to be an artist, the courage to follow unleashed inspiration and the ongoing physical and personal development of the body, voice and temperament of the actor as an artist.
David's courses are always affordable. He knows what being a student and an unemployed actor feels like. Profit is not a priority. However David's courses are very popular and places are strictly limited to provide personalised attention. Please make contact and David will slot you in as soon as possible.
On the site you can find information on:
Company D Theatre Company
Where David  teaches, including:
The Applied Art of Acting
The Actors Wednesday Workshop
The Actors Friday Studio
The Easter Intensive
The Summer Teen Intensive
The Summer Adult Intensive
Corporate and Education Courses
Private Tuition
Feel free to contact David with any questions or queries you may have on Email: davidarts@eircom.net. Ph. 087 759 6715.  See Contacts for details.
Find David Scott and all the above courses on Facebook.
Twitter: @companyd